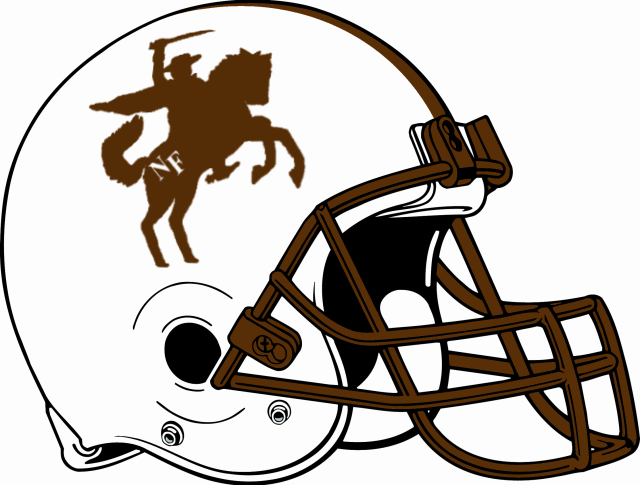 North Farmington High School




Raider Football
Raider Combine
This is your athlete's chance to see how he stacks up to the competition and for the coaches to evaluate the new season's talent. Athletes complete drills seen at NFL Combine and receive time and height scores. Parents are welcome to spectate. Bring a lawn chair and take in the new season's promise.
​
North Farmington Football Camp
​
Youth Camp
​
​
7 on 7 & Lineman Camp
North Farmington pairs up with other local teams to run this clinic. Offensive skills players (quarterback, running backs, receivers) engage with Defensive Backs and Linebackers to practice and prefect their plays. Meanwhile Linemen conduct drills and one-on-one blocking competitions. Parents are welcome to spectate.
​
​
WSU Passing League -
​
​
Conditioning Week
This is week kicks-off the season's official practice schedule. The players spend the week working out with the coaches. No pads or helmets this week.
​
​
Equipment Issue
Players bring their Athletic Eligibility Card with them in order to be issued their equipment for the season.
​
​
Doubles Practice
It's show time. Yes that's right, Morning Practice and Afternoon Practice.
​
Doubles Lunches
In order to keep the guys fueled and foster team bonding lunch will be provided to all teams and coaches. This is an "All Hands on Deck" event. We need all families to sign up to contribute to the lunches. Each lunch will have a coordinator who will plan a menu and handle logistics.
​
Family Day
The day starts with team and individual pictures. Brown vs Gold scrimmage follows. Stick around for lunch. There will be a potluck style picnic lunch. Bring a lawn chair and a dish to pass.
​
Mothers' Football 101 Class with Coach Herstein
Feeling a little confused about the rules, strategy, positions? Come to Coach Herstein's Football 101 for Moms and become a football whiz.
​
Pancake Supper and Pep Rally
Pancakes? Yes, please! Come enjoy delicious pancakes with the team. This is a great chance for parents to meet each other just as the season is about to kick-off. The Varsity Team will introduce themselves and we'll cheer them all on for a job well done preparing for the new season.
​
Playoff Dinners
​
​
Banquet